Lowes water softener systems are not really popular with many buyers, but they are available with a few options that you can consider.
Here are 5 water softener systems you can purchase from Lowes in case this is your favorite e-commercial website.
This water softener from A.O Smith ís the best seller system in the water softener category on Lowes at the time this review article was published.
It's listed at a price of $629.00.
You can choose either 2 of the following paying option:
$597.55: on eligible purchases every day when you choose 5% savings
Or
$105/month: 6-month special financing suggested payments.
You can also choose a 2 years Lowes protection plan at $109 (only $4.58/month).
This water softener system has received 582 reviews from the customer with an average 4.3* out of 5* rating.
A.O. Smith  45000-Grain is a single-tank water softener with a compact design
Touch screen controller with salt-sensing technology. Adapts to your water usage for less salt, water, and energy use. 
Self-cleaning and pre-filter reduce dirt and sediment.
Slides-open salt lid for a simple salt refill.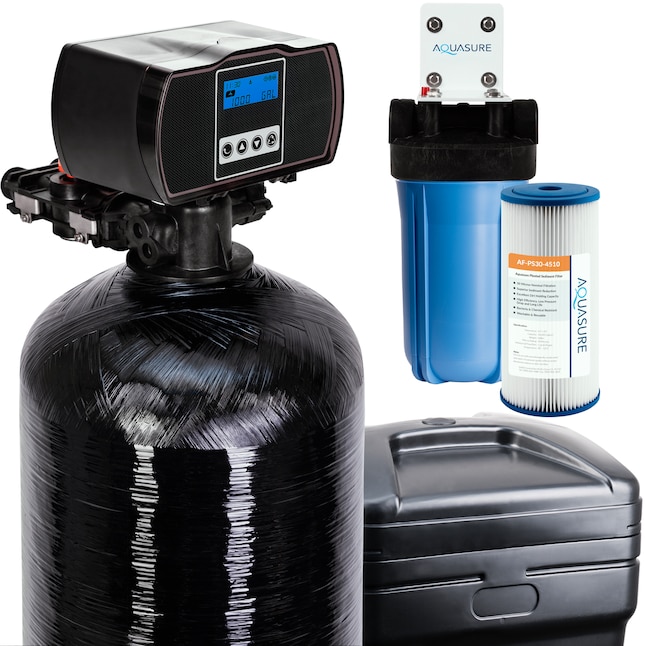 AQUASURE  Harmony 48000-Grain is a dual-tank water softener that is available on Lowes along with many other e-commercial websites.
Its price is a little bit higher than the A.O Smith one above at $636.49.
You can also choose to pay with daily purchase eligible or monthly payment.
At Lowes, AQUASURE  Harmony 48000-Grain comes in a package with AS-F110PS high-flow whole-house Pre-filters. This pre-filter helps trap larger sediment and particles from the water before entering the softener and your home.
This water softener system is designed for a family of 5 members.
With exceptional performance and high efficiency, this softener treats 48,000 grains of hardness and up to 10 ppm of iron.
This water softener has received 16 reviews from customers with an average rating of 4.1* out of 5*, this number of reviews and ratings is not really high at Lowes compared to other e-commercial sites.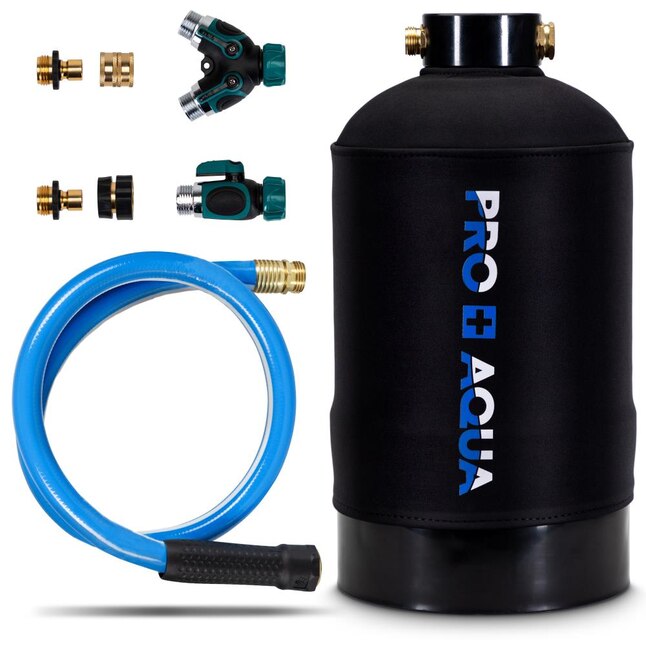 Even though this water softener system was not available at the time this article was published, this is a compact softener that RV folk should take into consideration.
This portable water softener provides a high flow of 5 GPM, a 16,000-grain capacity for up to 40 days, or 2,000 gallons of soft water which is enough for campers.
It is built for RV, boat, carpet cleaners, or mobile detail owners.
PRO+AQUA Travel Series 16000-Grain comes with the optional 2-in-1 pre-filter and regeneration kit for a no-fuss regeneration, no tools are required.
This 16,000-grain unit provides 40% more soft water than other systems in its size, the regeneration takes less than 30 minutes with 1 box of table salt.
There are 2 reviews from the customers with an average rating of 5* out of 5*.
Krystal Pure Ks 50000-Grain is a professional water softener.
It has received 32 reviews from customers at Lowes with a rating of 3.5 out of 5*.
This system with a 5-year warranty on electronics softens water, reduces iron in water, traps sediment, and monitors your home's water usage. 
This system comes with two tanks, they are designed with a small footprint and offer flexible installation options.
You can purchase this system at a price as low as $886.00 from Lowes with exclusive benefits for customers that have been offered by Lowes and the manufacturer Krystal.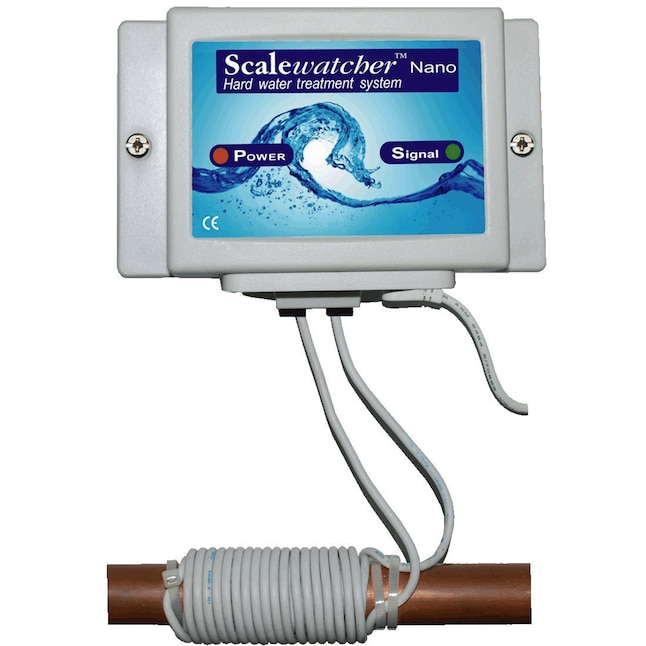 Scalewatcher Nano is truly an electronic water descaler that alternates the water hardness into a form that will not deposit any limescale on the fixture surface.
This device is a special design for apartments and condos with municipal water sources where you don't want to touch the water system.
This water descaler treats water in pipes with magnetic and electric fields.
The result is mineral crystallization will not adhere to pipes, walls, glass doors, or plumbing fixtures.
The water is not truly softened but remains chemically unchanged, therefore, will retain beneficial and healthy minerals like calcium and magnesium.
Lowes Water Softener Conclusion
Even if a water softener is not a popular product for Lowes customers, you totally can find a good often here as they are all listed by the manufacturer that will take care of all the customer services as well as the warranty for the product.
Happy shopping for a water softener at Lowes.